ABUNDANT WILDLIFE, TROPHY WHITETAIL BUCKS, COUNTRY CABINS, SCENIC ACREAGE…
New Pictures In Photo Gallery!!
We have a 99% success rate on all of our whitetail hunts!
ABOUT THE RANCH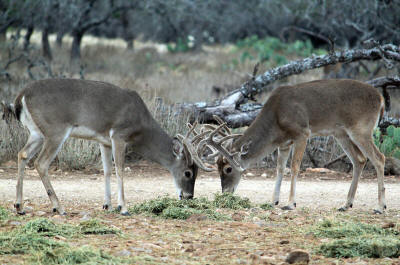 The Crenwelge Ranch offers whitetail trophy hunts as well as management, cull, doe, and turkey hunts. The 648-acre ranch is located in the beautiful Texas Hill Country approximately 22 miles northwest of Fredericksburg, TX – near Doss, TX. Only an hour and a half from San Antonio or Austin, the ranch is centrally located in the scenic Central Texas area. The ranch was purchased by Sidney Crenwelge in 1982 and continues to be primarily in a natural state with native grasses, numerous live oaks, and gently rolling hills providing an ideal environment for whitetail production. Originally purchased to raise livestock (cattle, sheep, and goats), the Hill Country ranch was high fenced in 2002 and the focus of the operation was shifted to raising trophy whitetail bucks. The Crenwelge family implemented a feeding program including feeding protein and corn year round. Their efforts have resulted in an abundance of trophy whitetail bucks!! Protein and/or corn feeders are located throughout the ranch and 11 blinds are available for your hunting enjoyment.
Whitetail hunts are available in a variety of packages including weekend and day hunts. Lodging is available in fully furnished cabins that comfortable sleep 4 adults. Each cabin has complimentary coffee, microwave, small refrigerator, heat/ac unit, VCR and satellite television. Cabins are supplied with linens, towels, soap, etc. and have private bath/showers. Meals are not included in any of the hunting packages. Outdoor BBQ grills are also available. Wood is available but no charcoal is supplied. Cold storage is available on site with a covered area for cleaning and skinning of deer.
The Crenwelges offer hunts/packages in a wide variety of price ranges sure to suit your hunting and/or budget needs. Hunts are available as follows:
A Buck of the Hunters Choice, 1 doe, and 1 turkey (if available) at no additional cost. Management buck hunts include seven and eight point mature bucks with pricing according to Boone & Crockett gross scoring. Management package hunts include 1 management buck, 1 cull buck, and 2 does. Cull buck hunts are also available and consist of mature bucks – six points or less. Doe and spike hunts are also available. For more detailed information and pricing please see our pricing list and/or call Sidney or Donna Crenwelge at 830-997-4057 (home) or 830-889-3506 (cell).
Prices are subject to change.
Down payments are $1,000.00 for trophy buck hunts, $500.00 for management buck hunts, and $250.00 for cull buck hunts.
Non-hunting guests will be charged a $100.00 guest fee.
All hunters must have a valid Texas hunting license.
MLD permits are available, where applicable, October 1, 2009 through February 28, 2010.
Hunter must sign release form before hunting.
If blood is drawn it is considered a kill. Every effort will be made to locate the deer.
No loaded guns are allowed in trucks or cabin area.
No alcohol can be consumed in hunting blinds.
All wildlife included in package hunts must be taken by a single trophy hunter. The additional animals cannot be harvested by other family members/hunters.
This site voted one of Best Texas Hill Country Sites.